Sleep Out with Stars Clap
Friday, April 29, 2016
7:00 PM - 7:00 AM
Paul Emery Park - Harrisburg
Bandstand Area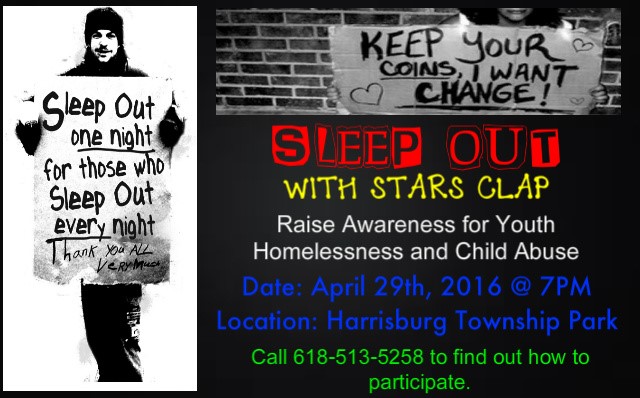 What is a Sleep Out?
A Sleep Out is a way to raise money, in-kind donations, and awareness for our homeless and food-insecure neighbors by inviting all participants to spend the night outside, in the elements, in a cardboard box, or other makeshift shelter. Although we could never recreate
real-life experience of what it is like to be truly homeless, sleeping out for the night can focus all our thoughts on how we can all make a difference in ending the hunger and homelessness right here in our area.
In addition to donated food, water and soda, the Sleep Out seeks to entertain and educate through a shelter construction project and other activities during the event. It's our goal to not only raise as much awareness as we can, but also to teach people what it may be like to be
homeless and all the ways that they can continue making a tangible, positive difference in their community.
Relay for Life
June 10, 2016
6:00 PM - 12:00 AM
Paul Emery Park - Harrisburg
Amax Shelter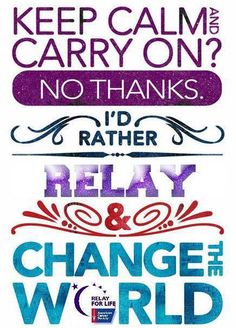 The American Cancer Society Relay For Life is the world's largest and most impactful fundraising event to end cancer. It unites communities across the globe to celebrate people who have battled cancer, remember loved ones lost, and take action to finish the fight once and for all. Today, with the support of thousands of volunteers like you, the American Cancer Society is helping save more than 400 lives a day. And we won't stop until we finish the fight against cancer! Please join us!
Fishing Tournament
There will be a certain number of tagged catfish stocked in the lagoon for this seasonís fishing contest. As always, the number of the fish corresponds with a certain prize at the park office. Please do not bring your tagged fish into the park office, only the tag from your fish. This contest begins at 6:00 AM, Saturday, June 18th and will end Friday, July 16th, 2016. You must have a license to fish.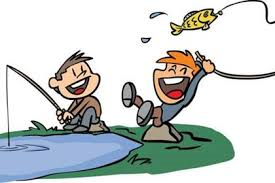 Free Fishing Weekend at
Paul Emery Park Lagoon
This event kicks off the beginning of Paul Emery Parkís fishing tournament. On this special weekend, you may go fishing at the Memorial Park Lagoon without a fishing license. This weekend begins Saturday, June 18th and ends Monday, June 20, 2015.